Our Mission & Vision
The mission of Community Bible Church is to love God, to love others, and to magnify the name of Jesus Christ. The vision of our church is to glorify our God and Savior, Jesus Christ, to make true disciples throughout all the nations by means of missionary activity and support, to minister the ordinances, to edify believers, and to do all that is sovereignly possible and biblically permissible to magnify the name of Jesus.
Leadership Team:
Our leadership team recognizes the authority of God, and realizes that we are shepherds who serve under the Chief Shepherd, Jesus Christ. We desire to devote ourselves to prayer and to the ministry of the Word. Our passion and goal is to equip the believers for the work of the ministry until we all attain maturity in the fullness of Christ.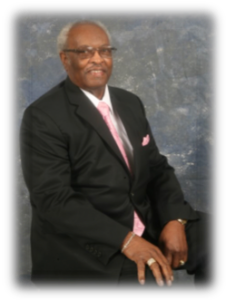 Dr. W. L. Johnson, Sr., Pastor
The Spirit of the Lord is upon me, because he hath anointed me to preach the gospel to the poor; he hath sent me to heal the broken hearted, to preach deliverance to the cap- tives, and recovering of the sight the blind, to set at liberty them that are bruised, to

preach the acceptable year of the Lord."

Luke 4:18-19

Rev. Dr. Chaplain Walter L. Johnson, Jr.
Asst. Pastor
Mt. Zion M. B. Church Current
Pastoral Work:
First Baptist Church 14 years
Hope Spring. M. B. Church 14 years
Chaplain Certification: Chaplain/Bereavement Coordinator Current
Chaplain/Bereavement Coordinator
Education: The College of Pastoral Supervision & Psychotherapy, Inc. Graduate
CLINICAL PASTORAL EDUCATION (CPE) 1st 2nd 3rd
Baptist Health Systems, Inc. (accreditation) Chaplain Certification
New Foundation Theological Seminary Doctoral of Theology
McKinley Theological Seminary Master of Divinity
McKinley Theological Seminary Bachelor of Theological
Mississippi Baptist Seminary Theological Studies
Jackson State University Business Management
Miss. Valley State University Business Management Studies: Business Administration, Management, Criminal Justice, Business Law, Biblical Ethics, Systematic Theology, Church Administration, Pastoral Counseling Thesis- Vital Role of the Black Church in the South Dissertations – Black Church Operational Structure/Ministry Denominational and Ecumenical Work
1st Vice Moderator Attala County Association
2nd Vice Moderator, Hope Spring District Association
Current- Recording Secretary for General Baptist State Convention, Ms.
Special Adm. for Registration National Congress Christian Education USA.
Current- Supervisor of Registration for the National Baptist Convention USA.
Professional Affiliations:
General Missionary Baptist State Convention
National Baptist Convention Inc.
National Baptist Congress of Christians Education
Hope Spring Association
Attala County Association
Ministers Alliance
NAACP
100 Black Men
Anderson Masonic Lodge
Business League of America
Justice Court Judge Candidate
Professional Leadership Ministries
Marriage Ministry
Singles Ministry
Ladies of Graces Ministry
Brother of Mercy Ministry
New Membership Orientation Ministry
Meals on Wheels Ministry
Transportation Ministry
Primetime Ministry
Young People Ministry
Youth Enrichment Programs
*YNT- Youth N Training
*TNT – Teen –N-Training
*YANT-Young Adult-N-Training
Mime Ministry
Dance Ministry
Evangelism Ministry
Aerobic Ministry with Grant
Food Pantry Ministry
Hospitality Ministry
Director of Tutorial Program
Public Relational & Fellowship Ministry
Girl Scout Ministry
Family Life Enrichment Ministry
Employment/Vocational Ministry
Tutorial Ministry
Laymen's Ministry
Alcoholic Anonymous Ministry

Rev. Walter L. Johnson, III., Pastor's Assistant
Rev. Walter Johnson, III is a native of Canton, MS. He accepted Christ as his personal savior at an early age and joined the church under the leadership of his dad. He is the son of Rev. Dr. Walter Johnson, Jr and Bessie M. Johnson. He is a member of Mount Zion M.B. Church in Canton, MS where he serves as Assistant Pastor under the leadership of Dr. W.L. Johnson, Sr. He is a graduate of Canton High School and Alcorn State University with a degree in Biology. Rev. Johnson is currently enrolled in the Wesley Biblical Seminary obtaining a Masters of Divinity degree. He has been endorsed by the National Baptist Convention to serve in the United States Air Force as a Chaplain Candidate. He has completed 400 hours of Clinical Pastoral Education at the Baptist Hospital and he is presently employed at the University Mississippi Medical Center as an IT Project Manager. Rev. Johnson was recently installed as Youth Director for the Madison County Baptist Association of Churches. He believes, "what you do for self will die when you die, but what you do for others will live on after you are gone." His favorite scripture is Isaiah 40:31, "But they that wait upon the LORD shall renew their strength; they shall mount up with wings as eagles; they shall run, and not be weary; and they shall walk, and not faint."